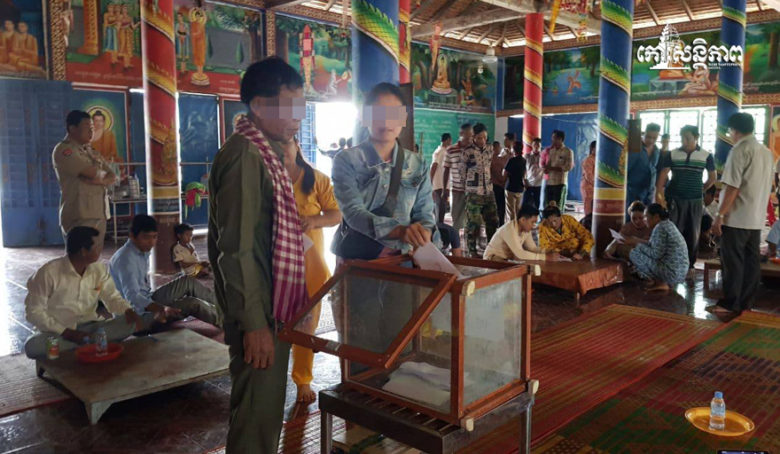 Prey Veng Province: On the morning of August 9, a ceremony was held at Wat Chrey Serey Udom in Reap commune, Pearang district, Prey Veng province. Vote for the election of pagoda abbots and pagoda committee with the participation of monks, district cult officials, commune authorities, districts and Buddhist people Near the pagoda, about 200 people.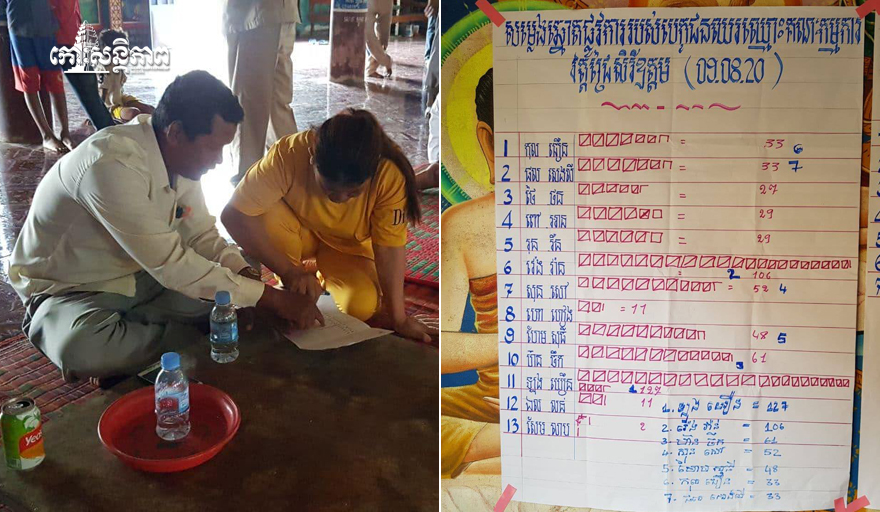 The election went smoothly, fairly and fairly, but the unexpected happened when the results came out. A group of Buddhists protested and refused to accept the results, which made the officials, priests, cultists and authorities very dizzy. Chhea Sothy, director of the Pearang district cult office, said that the election was conducted by both the pagoda committee and the pagoda abbot, and the results of the election The election of the Acharya is unopposed, everyone agrees to accept the result.
However, the results of the pagoda committee election resulted in a group of citizens objecting to the results that they themselves participated in voting. Mr. Chhea Sothy confirmed that the result of the election of Long Yoeun pagoda committee received the highest number of votes, 127 votes. Chairman of the Commission and Veng Van received the next 106 votes to be the Vice-Chairman, but a group of Buddhists approximately 50 to 60 people oppose the election results, demanding the re-appointment of Veng Van as chairman of the pagoda committee The reason is that Long Yoeun is poor and has no ability to manage the pagoda's budget. No.
On the morning of August 10, Pea Reang district governor Hy Thuok said that no matter what the reason for the group of Buddhists, Authorities, clergy and cults could not comply with the demands, but had to abide by the results of the election. Rising right and fair can not be done arbitrarily, on the other hand, only 30 to 40% of the opposition. Accept all. The district governor confirmed that it was very difficult for the people themselves to be the voters when the results came out, but they did not accept the results and complained. Protesting is really a headache.
According to sources from Chrey Serey Udom pagoda, the story of Athikar in this pagoda is very messy and The whole pagoda was divided into two factions: the monks, the pagoda abbot, the pagoda committee and the Buddhists under the pagoda, starting from the appointment of the pagoda's chief priest. Recently, the district priests, the district cult and the district authorities decided to appoint a monk in the oldest pagoda to Became the pagoda's chief priest, but just signed the letter and it has not been announced yet, but this news leaked out, making The pagoda erupted in amazement because one party opposed and demanded the appointment of another monk in the pagoda .
However, he was less than a year old to be the pagoda's chief abbot, due to the fact that he was good at finding a way to build a pagoda, and this abbot continued Exploded until the decision to elect a pagoda abbot and pagoda committee now and the results that came out Buddhists Who objected and claimed that they would file another appeal on the day of the announcement The pagoda's chief priest in the future. By: Som Pov Piseth