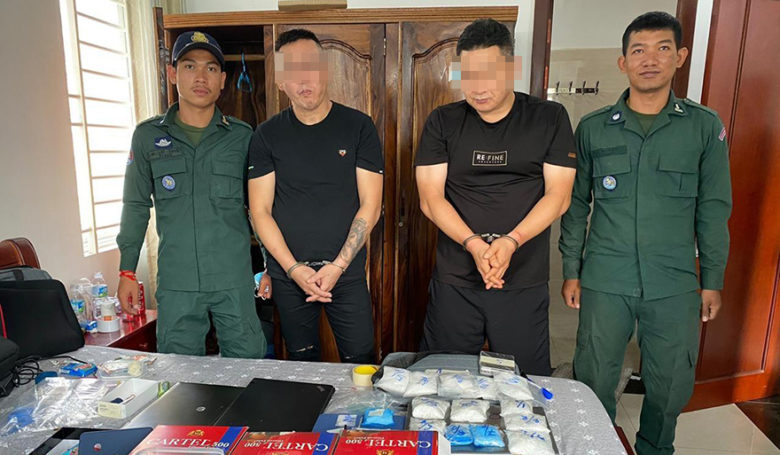 Phnom Penh: Police of the Anti-Drug Department arrested two Koreans and confiscated more than 1 kg of drugs ready to be sent to court in connection with the case Illegal storage and trafficking of drugs.
One of the arrested suspects, SONG MIN SOO, a 59-year-old Korean man holding passport number M717071112, has a police arrest warrant. International (Red Index). And another named CHOI MIN YOUNG, male, 50 years old, Korean. The confiscated items from the suspects include: methamphetamine (ICE) weighing more than 1389.57 grams, 1 car, 3 mobile phones. Two scales and equipment for packing and hiding some drugs.
Regarding the arrest of the two Korean suspects, Lt. Gen. Lek Vannak, Director of the Anti-Drug Department, According to the high order of General Santibandit Neth Savoeun, General Commissioner of the National Police and under the command Directed by General Mak Chito, Deputy Commissioner General of the National Police on July 23, 2020 at 3:30 pm The first specialist of the Anti-Drug Department, with Major General In Song, Deputy Director of the Department and coordinated by Mr. Plang Sophal, Deputy Prosecutor of the Prosecutor Phnom Penh Municipal Court Cracked Down on Two Korean (South) Targets Involved in Cross-Border Drug Storage and Trafficking From Cambodia to Korea in front of WISDOM APART M ENT, Building 16, Street 446, Sangkat Toul Tum Poung 1 Khan Chamkarmon, Phnom Penh, then proceed to check the 3D room in WISDOM APARTMENT apartment and room No. F1 E12, 12th floor of DIAMON apartment D HOME1, which they rented, the police found more than 1 kg of drugs.
After arresting the two suspects and exhibits, the case was sent to the Phnom Penh Municipal Court according to the procedure.