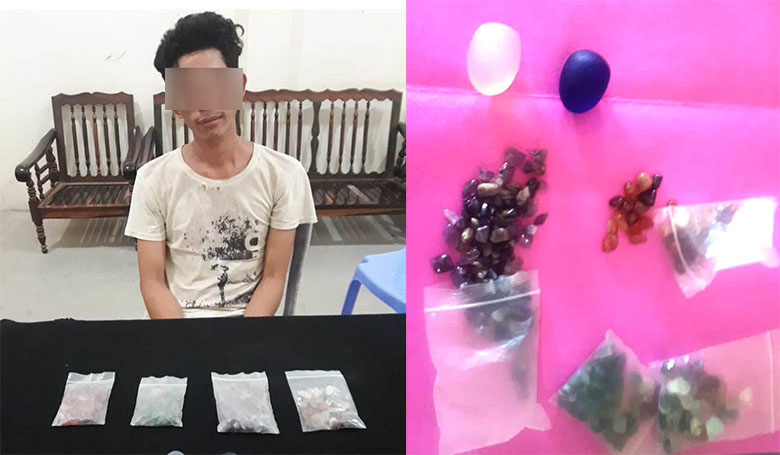 <! –
->
Kandal Provincial Court: Men arrested for dating a woman Two sued for allegedly stealing his girlfriend's motorbike In handcuffs.
After receiving a complaint from the victim, San Toth, 74, a Cambodian Muslim, fishing business is located in Tuol Village. Kompong commune, Koh Thom district, police arrested the suspect at 11 pm on March 7 at the Cham Cham Lower village of Koh Thom district.
The suspect is a 31-year-old Falifriya male, a Khmer Muslim, whose occupation is unknown in Phnom Khiev, Khum Khmrei, O'Chang commune, Sambor district, Kratie province. Eligible items include four packages of colored gems and two large tablets.
According to police, the suspect has been in a relationship with the victim's granddaughter. She has also visited the woman's house and promised to ask her parents to sue her. Also.
Authorities said that after getting to know each other on March 20 at about 2 pm, the suspects also came to buy motorcycles. The victim's grandfather was a granddaughter of the 2013 Honda Dream Series 125, and was also sold for sale. Priced at $ 400, the suspect did not immediately return the money, but asked for a loan from Git 100 dollars.
Over the course of four days, on March 24, the suspect came to the victim's home and brought a blue gem. The grandparents were allowed to sell them at the time of the sale, and the suspects still did not pay back the purchase price of the motorcycle.
According to the police, until March 26, 2020, suspects also came to borrow Honda victim's motorcycle. Another 2018 edition of the CMS 125 told how to buy more gemstones and grandfather agreed. Hand it over as the future clerk.
Authorities confirmed that on the 27th day, the suspect also gave the victims two blue gems but did not take them. The motorcycle came and told the grandfather that he had been beaten.
The suspect came to his victim's granddaughter's house at 11 pm April 7, 2020 and did not After motorbike, grandfather told brother-in-law to arrest suspects and file complaint at Koh Thom district police inspector On a motorcycle scam.
The suspect, along with a gem, has been sent to the district police department for further action.