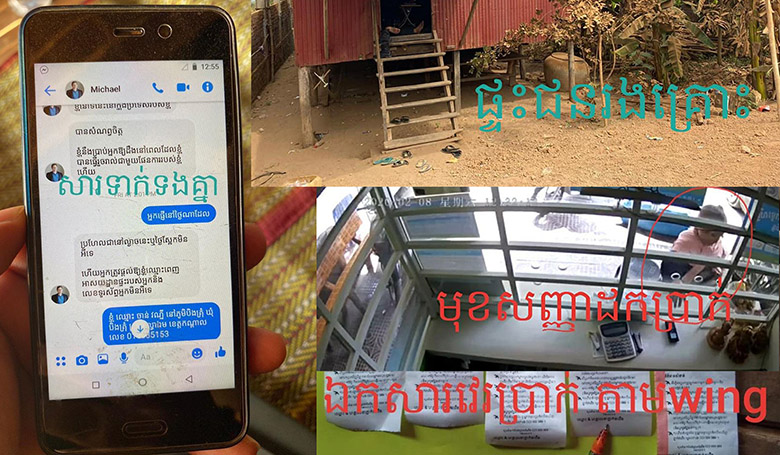 <! –
->
According to a Facebook post of the Royal Gendarmerie, the authorities often crack down on fraud cases. Always send money through WING and always call on promotions to avoid offenders using the same trick to trick you Others, including Lieutenant Colonel Roth Sreng, deputy commander of the Royal Gendarmerie and the commander The Royal Gendarmerie has also issued a direct appeal urging residents to be cautious. Greed, not desiring things that are not good, especially ones that come to life spontaneously without much effort Traps lead us into losses.
Despite the appeal and dissemination, it has been observed that some victims remain deceived This is the same.
For example, on the morning of June 5, 2020, the Phnom Penh Gendarmerie sent a scammer to send money via video. IWUJI DES MOND, 31, and NET SARRAR, 35, a male, 31, a male Go to court for criminal prosecution after they allegedly planned to cheat a 47-year-old female victim. Three times successive remittances totaled $ 8,500, but the victim had just sent $ 3,500 in suspicion of suing the cops. Phnom Penh Gendarmerie Police Conducted Further Investigations Identifying Suspects Until Approved Arrests Sent to Court For Sentencing The law.
The tactics used by the two perpetrators were used to scam victims, unlike previous perpetrators. Initially, they used Facebook as a foreign name (She feek Wilson) to contact victims. Tells that he lives in the United States. After looking at each other for three months, the victim told the victim he was near Retired, since he loves and loves his victims, he wants to send money to victims to buy homes in the country. The Khmer left for his visit to Cambodia, and his house was there, and he said that when he sent the money, he would be contacted The victim came to the phone and the victim gave the victim's phone number.
A few days later, a phone number 096 388 5014 called the victim to send them money to prepare the withdrawal documents. Sent from the United States, the victim was then told to help transport the money back to his home It is said that it is only necessary to send money to the proper documentation to withdraw the money.
So, at 12:00 pm on May 25, 2020, the victim sent money to the Truman Each is $ 500 and has been told to run at the embassy.
When the money was sent at 14:00 the same day, the victim again sent the money to the perpetrator via Wing $ 2,500 told to run through customs.
At 16:00, the same day, the victim told the victim to send another $ 5,500 just to file. The victim heard the victim send $ 500 to the offender and immediately called again to send more money Only $ 5,000 can be withdrawn from the United States Complaint at law enforcement site.
After receiving a complaint from the victim, the Royal Gendarmerie has been doing a thorough investigation until Subsequent detention of the suspect on June 2, 2020 and the case sent to the court on the afternoon of June 04, 2020 2020 ៕
(Greed, without consideration, will always suffer losses!)