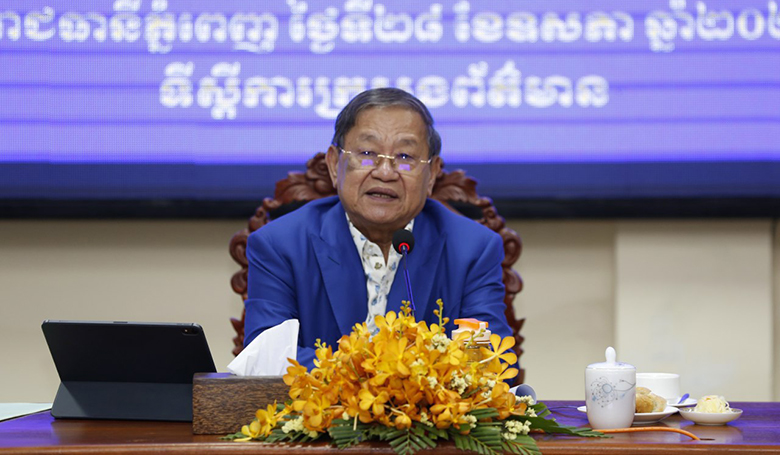 <! –
->
Phnom Penh: HE Khieu Kanharith, Minister of Information, Says Analog TV Repairs to Media Gmail is a much-needed task for Cambodia to get 4K clear and clear images, according to National Television of Cambodia .
Minister Khieu Kanharith said this at an inter-ministerial technical working group meeting to invest in National Digital TV Infrastructure Held on the afternoon of May 28, 2020 and was invited by representatives of the Ministry of Economy and Finance, Ministry of Posts and Telecommunications and Representative of the Council of Ministers.
HE Khieu Kanharith added that this project has been mentioned for many years and some countries have come It is also learned that the head of the Royal Government has decided to form the first inter-ministerial working group. Set up digital TV in the first step for 3 years.
He added that in many countries around the world when it comes to converting television to digital it is time to go. From 5 to 10 years, so for Cambodia it has been a matter of years of thought
Also, when the Digital TV system is operational, it can support local private television stations without buying or leasing land. They make towers, televisions and many other expenses, just by renting out their broadcasts It is on the same tower that the Ministry of Information plans to organize 28 locations nationwide.
He continued that for the technical team to set up National Digital TV Platform to handle 700 MHz frequency for the field Telecommunication and converting TV broadcasts from analog to digital systems in time to integrate Digi TVs Travel Cambodia to the region and the world.
Digitized TV infrastructure investment plans for the first three years 2021 to 2023. The transition to digital TV is important for all countries to quickly and easily convert their images. Especially for Cambodia, it is important to use digital system because by 2023 Cambodia will host The Games also guarantee the production of 4K high quality files.