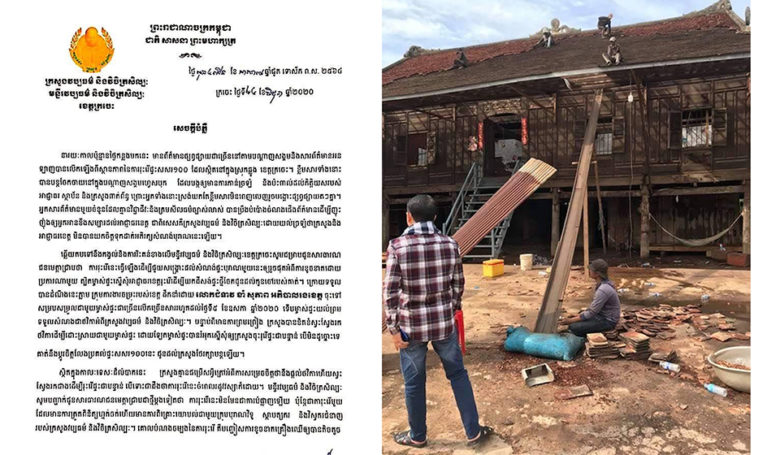 <! –
->
Kratie Province: After an ancient Khmer house with 100 columns and up to 100 years old has been removed from its original location Koh Knol Village, Chhlong Commune, Chhlong District, Kratie Province on June 22, 2020, with a press release promoting the news. Readers are furious at provincial authorities and the Ministry of Culture and Fine Arts for not conserving this ancient temple for the younger generation. Each watched.
According to the history of the 100 pillars, this is the home of a large logger's house in Chhlong district. Generations over a century ago. Earlier, the house had 100 wooden pillars, but in the Pol Pot era it has been demolished, the front and the back porch all out. The Pol Pot made this house the residence of a Khmer Rouge cadre. Today the house is still in good condition, with only 40 columns left.
On June 24, the Kratie Provincial Department of Culture and Art announced that the ancient house had been donated by a landlord for the purpose Land has been rebuilt since the old house was in disrepair. With the attention of officials at Kratie Provincial Department of Culture, the leaders of the Ministry of Culture and Fine Arts, especially Madam Kham Sopheap, Deputy Governor Conservation of Antiquities The house has been demolished and rebuilt in the location of the ancient temple of Wat Roka Kandal in Kratie town for the public Visit and do research.
The clarification of Tep Veasna, Director of the Kratie Department of Culture and Fine Arts, is as follows: