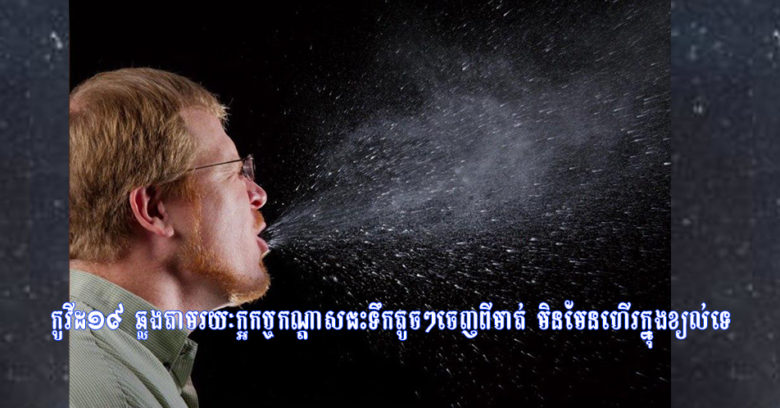 <! –
->
Phnom Penh: Coronavirus, new virus, or COVID-19, is transmitted through droplets that come out through the cough or Center (not flying in air). Keep in mind that small droplets of water where the patient is going to reach the site. According to the CDC's Department of Communicable Disease, released at 3:32 pm on April 4.
Scientists have found that the distance between three and three feet (90 cm) from the surface of a human is measured by a meter. Therefore, if we are more than 1 meter away from the patient, we will escape from the droplets. When a person coughs or sneezes, he or she snaps on different surfaces, such as on a table, on a wall, on a receipt. With his hand behind the nostrils, the nose, the nose, the touch of the door, the wall touching the receipt, as you touch those surfaces, cause a cross We touch the face and nose.
Scientists have found that about 60 times a day, the average number of people who touch our faces. Therefore, the patient must wear a mask so that they do not come out and both the sick and you must wash their hands frequently. Shampoo, alcohol, gel, etc.
For you, you do not need to wear a mask, but we do wear masks when needed, such as a gathering for patients and medical staff Put masks in the bin immediately after use. For more information, please contact 115 ៕