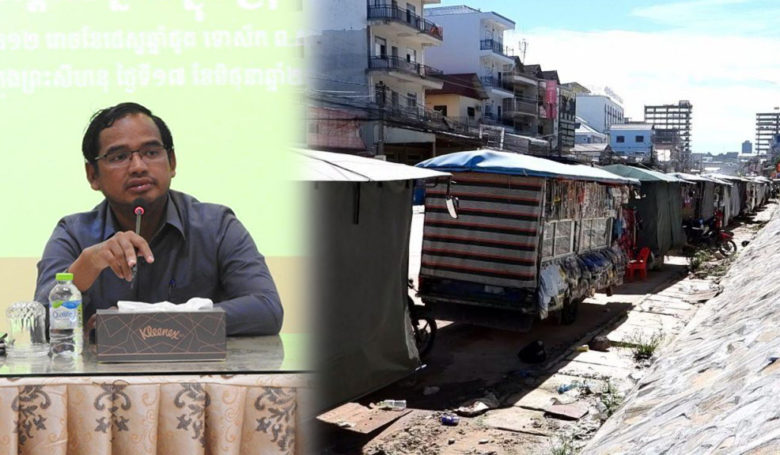 <! –
->
Sihanoukville: Mr. Y Sokleng, Governor of Sihanoukville, on the afternoon of June 17, 2020, summoned the regime's citizens. Mobile motorcycle trading, as well as automotive sales such as clothing, vegetables, fruits, fish, meat and motorbikes Cars that use public land affect public order in Sihanoukville for education and clarification of legal hot-line Also to the citizens who do not comply.
Is Sokleng says there should be no more motorcycles dealers in Sihanoukville because of this. This affects the order of the hygiene environment because most of the cart people are living in Sihanoukville, so he Told that if there is a proper kiosk and a proper place to stay, it is only possible for those who do not comply and In the wrong place, he left for a week.
If people from any province come prepared to return to their homeland because Sihanoukville is developing to attract international tourists and not to No more such sales.
City authorities announce hot action on residents, businesses, trailers or cars on public roads Affecting public roads Some citizens have expressed their disapproval of the move, saying authorities have denied their right to do business. Live for the citizens.
Sihanoukville governor E Sokleng says the move is not about shutting down people's rights but a way to maintain order. Only allowed on public roads for public display at places that do not affect public order The streets.
He also said that people in the past had sold their carts on trucks on public roads, affecting public order. Where there were no accommodation, they stayed in their own shopping cart and garden, and Roads, etc., affect both order and hygiene environment through defecation. If you want to sell your land, find a place to live in it, such as renting a house, renting a stall or buying a house, and buy a piece of land. It is not legal to park the trailer for the street anymore unless the authorities do so. It's fine.
According to the substance of the meeting, the use of mobile means such as wheelchairs, motorbikes and street parking Roads, beaches and public places, which cause many problems, such as: 1) causing traffic congestion; Accidental traffic accidents may occur. No public order and social order. Lost the city's aesthetics. 4. Trafficking does not properly dispose of garbage, causing environmental impact. 5) These wheelchair and tuk-tuk dealers are not residents of Sihanoukville or Sihanoukville, but most Most are from different provinces. And 6) most tuk-tuk and mobile car dealers say they stay in tuk-tuks and mobile cars Some say they stay in a lot of land that the owner does not live. The public and the landowners who did not take care of them became a target for them to breach their permanent residence.
According to Sihanouk City Hall officials, in Sihanoukville, there are brothers who sell mobile phones. As well as the cars that sell most of the clothes, there are now more than 200 of them. And many of those people are from other provinces and their businesses are mobile, homeless and There is no clear place to stay, night or place to sleep. Also, some people from other provinces stayed in their trailers. He also has a place to stay or rent a house.