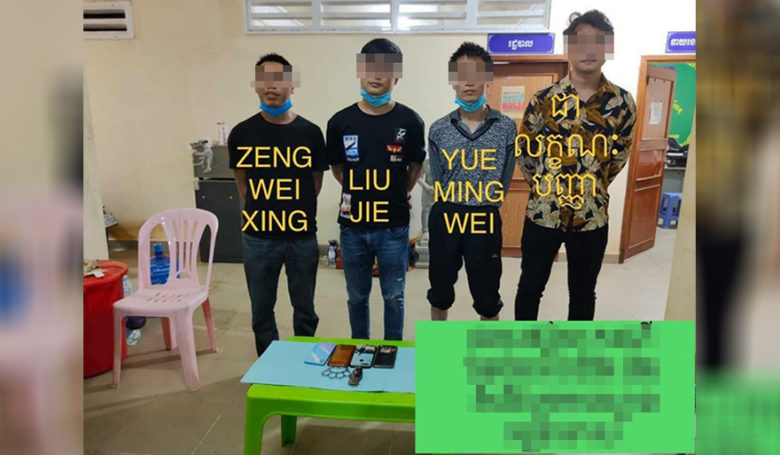 <! –
->
Sihanoukville: Authorities cracked down on attempted kidnapping and aggravated robbery yesterday, reports said. May 29, 2020 at 2:30 pm. The task force, the criminal police, patrolled the streets, which is more prone to crime.
Arriving in front of Sihanoukville Trade Center (called Chinese Market) is located in Village 1, Sangkat 4, Sihanoukville. Police found a silver and gold TOYOTO PRIUS car and painted it on the suspect's license plate After motorbike, at the point O-3 located in village 5, Sangkat 4, town / Sihanoukville, suspects were also aware Add car speed to escape.
Authorities immediately intercepted the car and detained four suspects (one Cambodian and three Chinese). ) After searching the vehicle, found one child, a knife, two handcuffs and four cell phones and dispatched the suspect. The four were questioned at the Preah Sihanouk provincial police headquarters.
Four suspects arrested, 1-year-old male, 20-year-old Cambodian, unemployed Sugar cane 2, Chbar Ampov 2, Phnom Penh. YUE MING WEI Male, 31, Chinese, Broker, Non-Passport Broker, Arrested in 1 Village, 4 Cities, Preah Sihanouk Province Sihanouk. LIU JIE Male, 31, Chinese, Occupation, Manager, Huai Casino, No Passport, Stay in Village 1, Sangkat 4 City – Sihanoukville Province. ZENG WEI XING Male, 33, Chinese, Occupation, Non-Passport, Resident, Occupation, Village 1, 4 Cities, Cities Sihanouk.
The seized items consisted of one knife, one key, one handcuff, four keys, one cellphone, one car, TOYOTO PRIUS silver Wear plate number 2BF-2749. After questioning, the four suspects confessed to the arrest of a Chinese woman, Niu Niu, a store employee. Jing Hav Massage is located near the corner of the Old Court Road in Village 3, Sangkat 4, Sihanoukville. Hold on time.
Of the four suspects, two were suspects (1 is an intellectual and ZENG WEI XING) confessed that they were Take part in the robbery on March 10, 2020 at 21:47 at Point Chia Hong in Village 5, Sangkat 4, City – Sihanoukville, along with four other Chinese factions, is currently being investigated by a court-ordered expert. Preah Sihanouk Province (Edited by: Bopha)