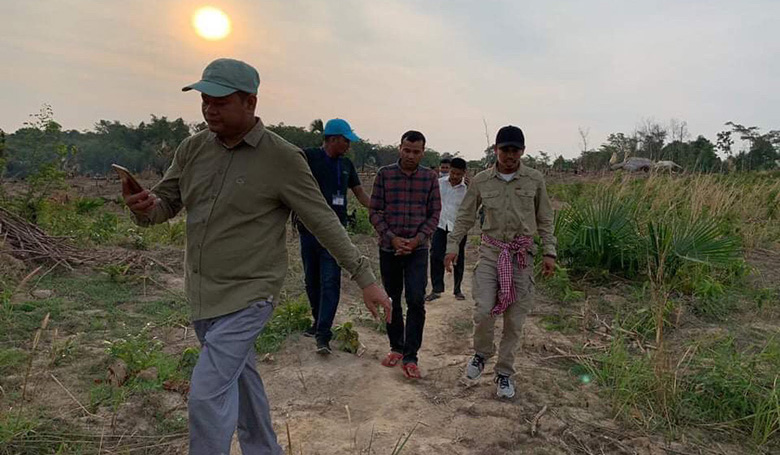 <! –
->
Kandal Provincial Police suspect shot dead brother-in-law on Oknha Tia island and escaped for seven days He was arrested by the police on the evening of April 22, 2020 in Stung Treng province and was returned to the Kandal provincial police headquarters.
The search for the perpetrator was led by Brigadier General Chhoeun Sopheak, the central provincial police chief and a collaboration between police and the criminal bureau. Kandal Provincial Police Criminal Office cooperates with the Police of the Central Sandy District Police Inspectorate and the Police Commissioner Stung Treng police station.
According to the Central Provincial Commissioner, Chhoeun Sopheak said the suspect was identified as Sen Rranon, a 35-year-old Cambodian national. Broken administration. The victim, Mao Bun Heng, a 25-year-old Cambodian national, was in business. The suspect and the victim were brothers and sisters.
Remember that Post police shot and killed brother-in-law on Koh Oknha island The incident took place at 18:30 pm on April 15, 2020 at Chong Island Village, Koh Oknha Tey District, Central Sand, Kandal Province.
According to witnesses at the scene, the suspect had previously argued with his wife, Kong Sok, at the time. Suspect took his unidentified pistol to his wife, and the victim came out and said he needed to carry his gun. What? Only then did the suspect shot at the victim, causing his throat to be shot at the scene. After the shooting, the suspect was found
Neighbors took the motorbike, Phal, away, leaving a pistol and a shotgun at the scene.
After the incident, Brigadier General Chhoeun Sopheak, commander of the Kandal Provincial Police, led a cross-border convoy overnight. The scene itself as well.
The suspect has now been taken to the Kandal Provincial Police headquarters to file a legal proceeding.