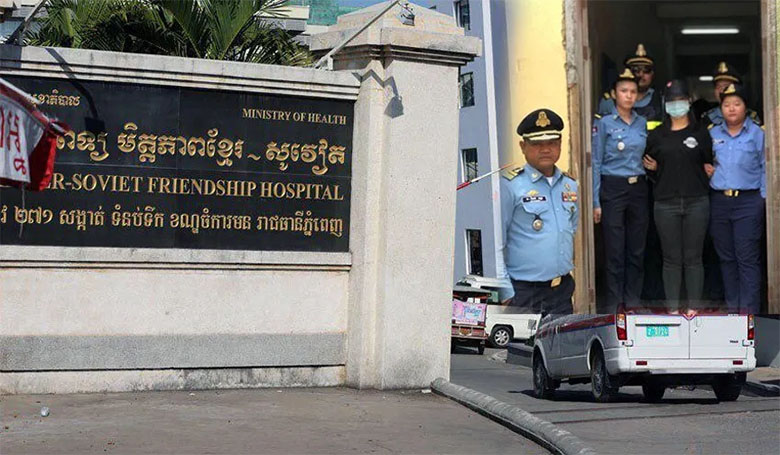 Phnom Penh: On the morning of July 15, 2020, the Parliamentary Inquiry from the Court of Appeal requested the General Department of Prisons to bring the guards of Pesey Prison Ho Chamroeun was charged in Criminal Case No. 4542, dated July 18, 2019 of the Phnom Penh Municipal Court.
Defendant Ho Chamroeun, who held the title of tycoon, was remanded in custody on charges of "breach of trust". In Phnom Penh from 2015 to 2017 under Articles 391 and 392 of the Penal Code.
Please be reminded that the former 3 star Ho Chamroeun was arrested by the police of the Office of Minor Offenses of the Ministry of Interior on the afternoon of May 15, 2018 at A villa in Prey Sar village, Sangkat Prey Sar, Khan Dangkor, Phnom Penh, involved an explosion of nearly 10 firearms threatening his father-in-law. After being arrested and detained by the police, Ho Chamroeun was subjected to a series of complaints related to fraud and is still under investigation. On another new case.
Ho Chamroeun was initially detained at Prey Sar Prison in the M1 Correctional Center, but later The tycoon and the rich man asked to be transferred from "M1" prison to Peisi Prison, which is considered to be a prison Be that comfortable.
After spending the night at Peshi Prison, the accused tycoon recently asked his superiors to rest. At the Khmer-Soviet Friendship Hospital, the accused claimed to have health problems.
As for those who follow the story of prisoners who have money to go to the hospital, they say that those who have money are not sick, they always rent a hospital instead of a prison. It is often said that "prisons abhor the rich and imprison the rich for not sleeping" in the past.
Apparently, like Duke Thong Sarath, when he was convicted as the murderer of Duke Ung Meng Chea, he did not sleep in the same prison in For 4-5 years, when he was sentenced until his release, he was said to be a disgusting prisoner and sent to sleep. So this is an example for rich people like Duke Ho Chamroeun and some other rich people to take the hospital to prison like the right people Nuon Pok, a 45-year-old former director of the Preah Sihanouk Provincial Department of Land Management, Urban Planning, Construction and Cadastral Affairs, was charged with three offenses: Abuse of power – Abuse of natural resources and 3- Provision and use of forged documents by the authorities.
The suspect, Nuon Pok, was sent to the Phnom Penh Municipal Court by the Anti-Corruption Unit (ACU) on March 4, 2020 in connection with Committing corruption and is taking the Khmer-Soviet Friendship Hospital to prison. This is called a prisoner who has money to rent a hotel to sleep because the prison is too disgusting.