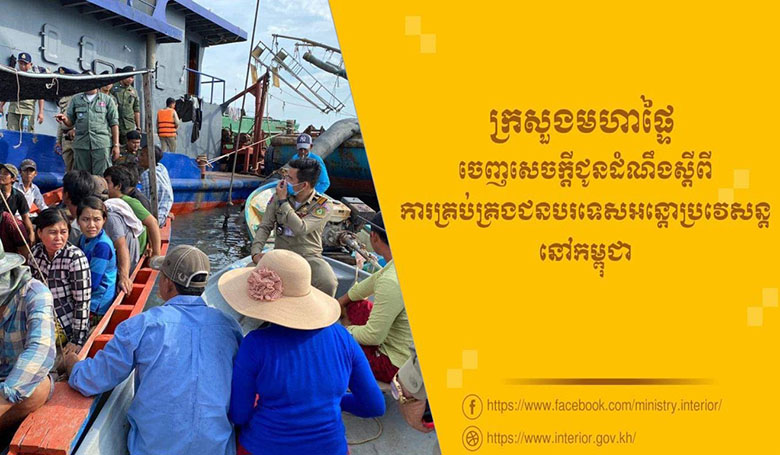 Phnom Penh: In the evening of Friday, July 10, 2020, the Ministry of Interior issued a notification on the management of foreigners and immigrants. In Cambodia
The Ministry of Interior considers that it is not possible to leave the issue of immigration as a risk to national security, order and safety Society and Economic Development, Ministry of Interior Requested Leadership and Highly Supported by Samdech Akka Moha Sena Padei Techo Hun Sen The Prime Minister of the Kingdom of Cambodia to address this issue with determination and responsibility for the national interest.
With the support of the head of government, an inter-ministerial commission and several working groups have been set up to conduct the census of foreigners. Re-immigration, with rigorous scrutiny to assess, compile into formal annexes, serve to define management frameworks and Resolve.
In addition, after the closing deadline of the campaign on June 30, 2019, there are immigrants in Nationwide, 89,786 people applied for citizenship and permanent residence permits, equivalent to 28,945 families with 11 nationalities, including 89,471 Vietnamese (42,836 females) and 117 Thais (15 females) in Laos. 151 (52 females), 22 Chinese (13 females), 14 Burmese (05 females), 3 Indonesians ( 2 females, 3 Malaysians (1 female), 2 Nepalese (0 females), Bangladesh 1 white (0 females), 1 tanzani (0 females) and 1 German ( 0 females).
At the same time, the Ministry of Interior noted that in the process of resolving this issue, the working group confiscated irregular Cambodian administrative documents that people Foreigners are occupying from the beginning of 2017 to June 30, 2019, 37,436 copies from 20,107 foreign families with A total of 69,957 people, equivalent to 11 nationalities, including 19,967 Vietnamese families, 69,787 people.
In addition, the number of foreigners mentioned above is currently being issued a permanent residence permit by the Ministry of Interior. (Valid every 2 years) in a row to put them under the rule of law and perform obligations as determined.