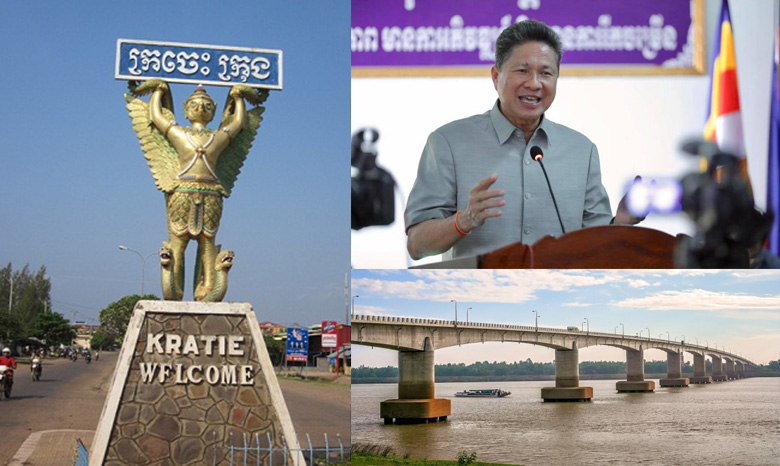 <! –
->
Kratie: On June 9, 2020, in Kratie, Minister Sun Chanthol says there will be bridges in the future. Crossing the Mekong River in Kratie Province.
Minister of Public Works and Transport said this at a ceremony to greet officials, staff and workers and equip them. Public Works and Transport Department in Kratie Province with the participation of Ministry Leaders, HE Chairman of Provincial Council, HE Governor, Board of Governors, staff, and Too many workers in Kratie.
Speaking at the event, the Minister said that this project will contribute to the growth of the region and the country by facilitating the transportation of goods. Agriculture, especially the market linking fellow-countrymen to the other, speed, time and profitability.
At the same time, the Minister highlighted the factors of peace and political stability under the wise leadership of Samdech Akka Moha Sena Padei Techo Cambodia's Prime Minister Hun Sen is an indispensable factor in attracting foreign investors, creating jobs for the people Tourists looking for agricultural markets contribute to the economic growth of the country and to people living below the poverty line.
It would be informed that during July 2019, Minister of Transportation Sun Chanthol confirmed that Cambodia would request for a loan. From the Chinese government to build another bridge across the Mekong River in Kratie, total length of approximately 1,761 meters.
The Minister of Public Works has confirmed that after review, he will make a proposal in 2020 and that construction will be possible. 2021 The bridge will make it easier for people to travel from Stung Treng to Kampong Thom province, saving more time and money. ៕