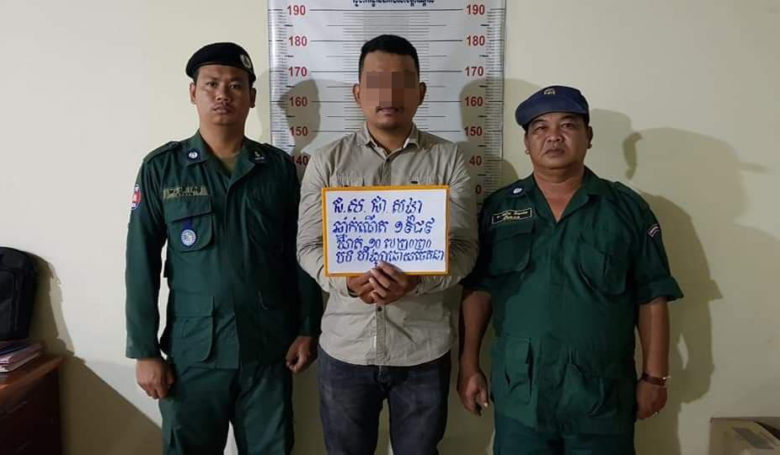 Kandal Province: A Violence Occurred That Shocks the Masses After Being Known as a Military Police Officer Daun Penh district, Phnom Penh, and another military officer of the Honorary Troops used violence against each other, causing the head to bleed due to Riding a motorcycle, the lights are on.
This incident happened on July 10, 2020 at 22:30 in Svay Chrum village, Svay Chrum commune, Khsach Kandal district, province. Central.
Colonel Men Sok Kheun, police inspector of Khsach Kandal district, said that the violence caused Leang Sothy, a 26-year-old military honorary soldier. Resident of Svay Chrum village, Svay Chrum commune, Khsach Kandal district, Kandal province. The Royal Gendarmerie, resident of Prek Khpob commune, Ek Phnom district, Battambang province, attacked with a pistol, allegedly flashing a flashlight. The name was detained by the police, including an original K54 handgun, number 55006467, 8 bullets.
He added that on July 10, 2020, at 22:00, the military officer took a motorbike taxi from his wife and sister to leave. Friends' housewarming program in Chaktomuk Borey, Svay Chrum village, Svay Chrum commune, back to Phnom Penh. When they arrived at the paved road, they met the soldiers, the soldiers were riding motorcycles in the same direction, and there was a verbal conflict with each other about the flashing lights. Eyes.
The military officer then fought with the military and pulled out a handgun from his waist, hitting him in the head, causing him to burst. Immediately, the Svay Chrum police force and the district justice force intervened to arrest the military officer, along with the exhibits sent. The district police inspectorate continues to follow the procedure.