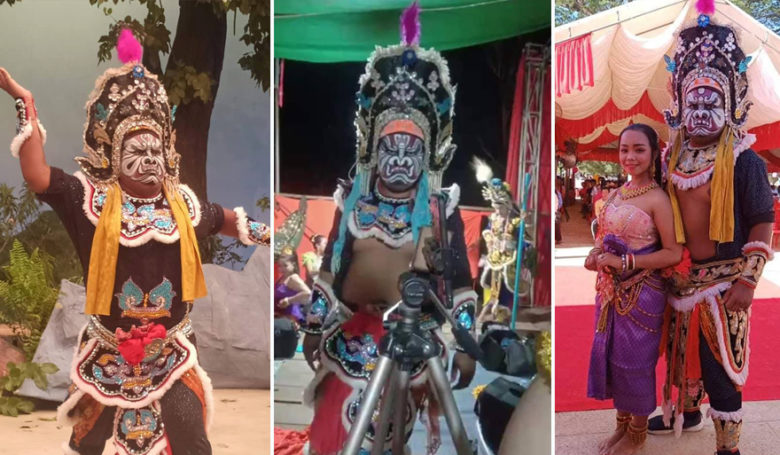 Phnom Penh: During the outbreak of Kovid-19 in Cambodia and around the world, performing arts activities in The performance of the Bassac Theater was almost completely suspended. In such a situation, the giant, which used to be big, with a big belly, screaming, shaking the stage, was paralyzed by this disease as well. It would be ridiculous if they were compared to giant characters who represented evil instincts and were not afraid of losing. Kovid's disease effects. Kovid is not afraid of anyone, even a giant, it can be transmitted, which makes the giant can not Wherever he went, he stayed in the house, did not show up, lost his income, and affected his livelihood.
One of the giant characters in Ol Sam Ang's theater recently said that in the season of co Vid Vong Theater has not performed in any theater, ie suspended and canceled about 20 to 30 theaters. Come and think for the last 2 months. Prior to the outbreak of Kovid, his troupe performed a series of performances for giant characters such as He is earning a fee of more than 10,000 riel per factory, depending on the near and far.
"This price is helping to ease my life in part and it can get a lot," he said. When we get a lot of performances. By the time of Kovid, I also had a lot of problems with living because there was no theater, I said. Get a few recording calls through some programs, while other than that, there is nothing at all, it seems to be dead, the performance market at once. .
However, I expect that after Kovid's disease declines or disappears, I may have a theater. "To help solve daily life, because now the theater is also an important part in solving family life."
Mr. Ol Sam Ang, President of the Bassac Public Theater Group in Phnom Penh, said that due to the spread of COVID-19 disease, his troupe had to Nearly 30 theaters have been postponed while the rest are still under consideration. Not from the program owner.
However, for the interruption of the performance at this time, he did not have any sadness and anger or complain because this is Decided by the host and this is a collaboration with the Royal Government and the Ministry of Health of Cambodia to jointly prevent the spread of Kovi disease ដ19.
"We thought about the health of our artists, even though we knew they were poor and did not perform," he said. Fees, but according to the situation of society and the government's measures, we must implement because this measure is not only in Cambodia "It is a worldwide epidemic of 19 Kovid."