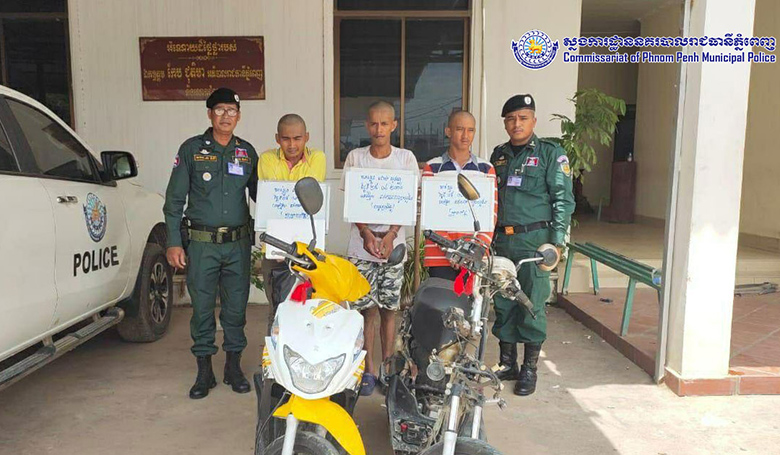 <! –
->
PHNOM PENH: At 03:00 pm on June 29, 2020, the new Phnom Penh Municipal Police Police Force conducted a search for three suspects. Japanese Catapult Cases in front of PTT Station 1928, Ba Yap Village, Phnom Penh Thmey, Sen Sok And 46 minutes on June 28th.
The three suspects were arrested by the police, including: 1- Thong Sovann, male, 19 years old, Khmer Occupation Rent a concrete road south of the village of Kakab 1, Por Senchey District. Sok Chan Tri, male 20 years old, Khmer Occupation, no accommodation, concrete road rental, Por south village, Kacak 1 Khan Por Sen Chey. And 3- Duong Chinese male, 20 years old, Khmer occupation, no accommodation, rent, concrete road, Por south village, Kakap 1 commune. Pur Senchey District.
The new Phnom Penh Municipal Police Post says the suspect was carrying a bag of chips from a Japanese man, SAHASHI AKIMASA, a 37-year-old male. Japanese teacher staying at BK Hotel, Road Bethany, Thmey Village, Sangkat Kokkrang, Sen Sok (Passport # MU5696523) The shock had one handbag, one laptop and one book of authorities returned to the victims.
Exhibits covered by the authorities include two motorcycles (1 – white mechanical, 2019, wearing license plate Kampong Thom 1k-5815, 2 – White Skirt from the year 2020, wearing the full 1IG-9663 of the suspects.
The suspect is currently being detained at the Sen Sok district police station for further legal action.