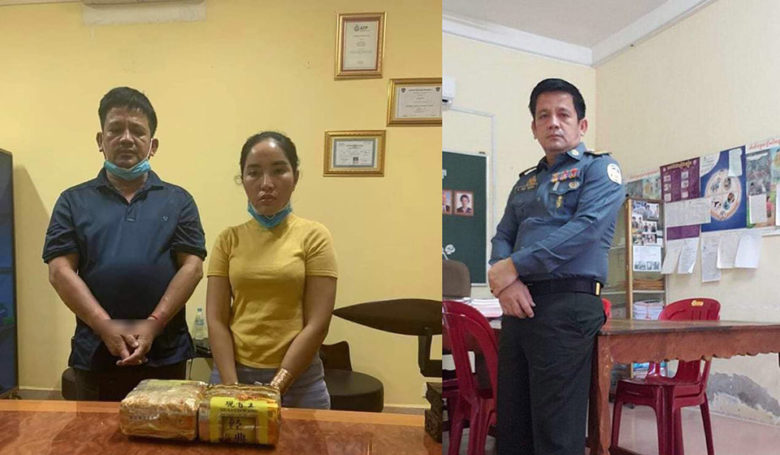 <! –
->
Takeo Provincial Police Anti-Narcotics Police Arrested by Takeo Police and Another Party Nearly two kilograms of drugs and two packs of marijuana.
The arrest of the mastermind of the anti-drug operation on Thursday, June 4, 2020 at the base of Angkor Bori and Tramkok districts in Takeo province.
The operation, with the participation of the Takeo Provincial Police Force and with the facilitation of the trial, was conducted by Deputy Chief Prosecutor Soeun Monyorn. Phnom Penh Municipal Court prosecutor Chiv Chandara visits two locations and detains suspects 2 people, including nearly 2 kg of drugs and 2 units of marijuana.
According to a Takeo police officer's report, the suspects included the first one, Chhun Sompit, a male, a military officer. The Royal Gendarmerie of Takeo (who has a rank of Lieutenant Colonel in charge of drug crimes) lives in Kampong Luong village, Angkor Borei commune, Angkor Borei district, Takeo province. . And the second, Ken Chan, an unidentified female, living in Ang Tok village, Leap Bo commune, Tram Kak district, Takeo province.
The items that the authorities confiscated were: two pistols, a rubber glove and 1 drug weighing scale. Approximately 2kg of Drugs and 2 Plants of Tobacco (20kg), 1 Safety Camera, 3 Blades A card and two credit cards.
The two suspects, along with the evidence, were taken by the Interior Ministry's Anti-Narcotics Unit to the Anti-Narcotics Department to build. The case goes to the proceedings.
However, the Cambodian Anti-Doping Authority has not provided further details on the alleged crackdown on transnational drug-related crimes The drug was taken in Takeo province, but a source revealed that the arrest of the anti-drug mastermind He was arrested after Vietnamese police seized millions of dollars worth of cocaine from Cambodia.