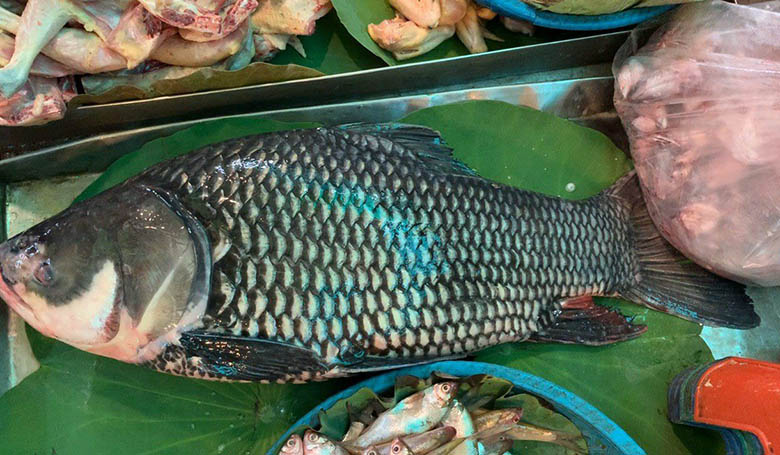 <! –
->
Phnom Penh: HE Nao Thuok, Secretary of State, Ministry of Agriculture, Forestry and Fisheries, and Chief of CITES Management Cambodia (International Trade Convention) On endangered species) expressed regret that fishermen as well as some traders Fishing and selling a variety of rare species, especially carp, are the most extinct and almost extinct fish from Cambodia is gone.
According to the July 7 Facebook page, His Excellency Nao Thouk wrote: "I plead with my compatriots, please Do not kill and eat carp, a national fish, as set by Royal Decree No. NS / RKT / 0305/149 dated March 21, 2005. This photo taken from New Market on Monday, July 6, 2020! " .
Speaking to TVK on July 7, HE Nao Thouk said: "I am very sorry when I am There have been reports that carp and sale of carp are the rarest and most commonly identifiable fish species on the The market. For this species of fish was prohibited by the Code of Fisheries 80 NS, dated April 23, 1956, but fishermen also Just as some traders continue to fish or trade for the benefit of themselves, their families, regardless of the merits And sin and the conservation of this rare species. "
"A large number of fishermen are joining the Fisheries Administration of the Ministry of Agriculture, Forestry and Fisheries," he added. The Tonle Sap fishermen, who have been catching carp after fishing, are mostly cooperative In the water, but in the case of the dead carp, they reported to the relevant authorities to take the fish for storage. Other benefits, such as experimentation, are that fishermen think the release of these big fish will work The festival is back, but there are still a few opportunists who steal this rare species of fishing net Big (one bath or two) to catch all these big and rare fish. "
His Excellency Nao Thuok requested 3 points: First, please all people know that you should not buy or eat rare fish. Especially the carp (without diners, no sellers, no sellers, no fishermen). Secondly, the relevant authorities at all levels must continue to implement measures to disseminate the fishermen more effectively and to cooperate in conservation and employment activities. Penalties or penalties for anyone who commits a fishing offense. And thirdly, do not use a large net to catch fish, and in the case of rare species, please do not enter Back in the water.
It should be noted that the carp are a fish representing Khmer nationality, by a decree dated March 21, 2005, strictly prohibiting fishing The carp is one of the largest freshwater fish in the world, from 2 meters to 3 meters in length. And weighs up to 300 kg.