Phnom Penh: After a meeting to find out about Dr. Heng Bun In's Amret water machine this morning, July 13, 2020, Mr. Cham Prasidh, Senior Minister, Minister of Industry, Science, Technology and Innovation, assigned Mr. Heng Sok Kong, Secretary of State to lead the Ministry. Learn about the location of Dr. Heng Bun E's water purifier tomorrow.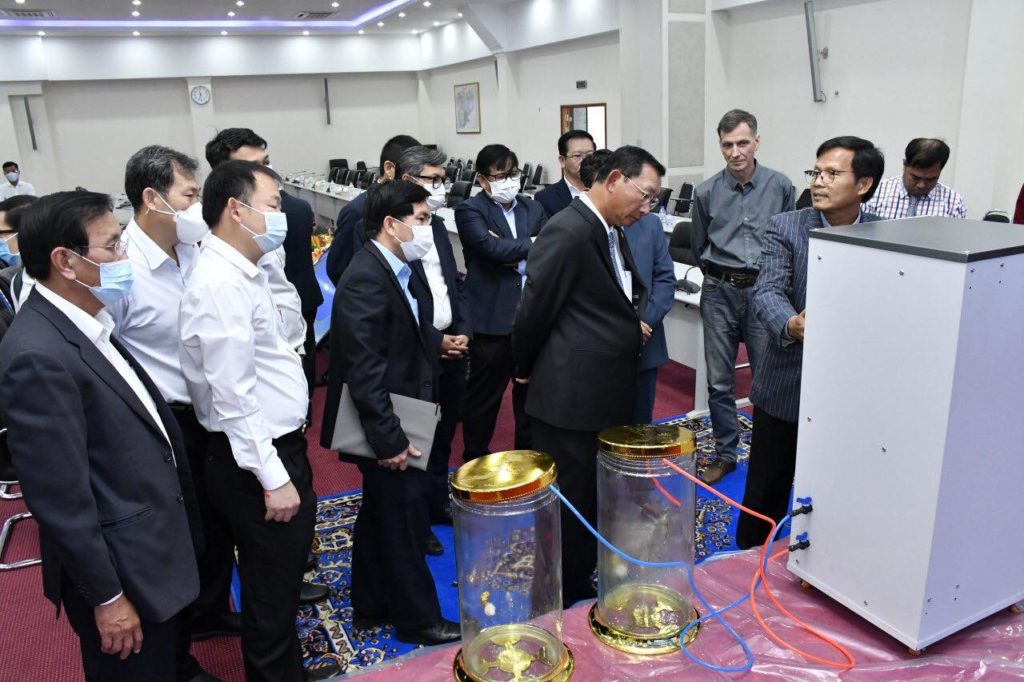 After being widely disseminated on social media and information about the discovery of a Cambodian scientist named Heng Bun E through a cross-examination interview with Mr. Soy Sopheap, Director General of Doeum Ampil Information Center regarding the merits And the benefits of the Phnom Kulen water source, a work of Khmer ancestors built during the reign of Jayavarman II.
This information is also of interest to the Ministry of Industry, Science, Technology and Innovation. In particular, the head of the Royal Government, Samdech Techo Prime Minister, instructed Mr. Cham Prasidh, Senior Minister, Minister of Industry, Science and Innovation, invited Dr. Heng Bun E, Mr. Soy Sopheap and other working groups to meet to discuss the truth and find out. From the quality of Dr. Heng Bun E's modern water machine.
During the meeting, Dr. Heng Bun E thanked Samdech Techo Hun Sen and Senior Minister Cham Prasidh for allowing him and his team to meet to discuss the work, as this is important and an opportunity for him to give a presentation on water generators. Amret especially let people know the quality of Amret water because it can cure some diseases as well.
He described that Amret water is the original formula taken from Phnom Kulen, because the water on Phnom Kulen is an area that provides a source of irrigation water to feed people, animals, plants, important for agricultural work and so on. Therefore, the environment and natural resources must be protected and maintained for the livelihood and livelihood of all people.
In response, Mr. Cham Prasidh congratulated Dr. Heng Bun E for his innovation and high level of innovation, which is considered an innovation from the work of Cambodian children.
Today, the Ministry of Industry, which is the Ministry of Science, Technology and Innovation, also has scientists and technology to listen to the presentation and ask why.
As noted by Senior Minister Cham Prasidh, as well as leaders and experts in science and technology under the Ministry who participated in the opinion is to make it clear that to find something in a scientific way, we must have a valid and appropriate factors. Logic is true in the sense that science cannot mix history and / or superstition. Like the word amrit, its meaning is like immortality: immortality. But we say that the water of Phnom Kulen is Amret water, which can confuse the masses and the people until they believe that the water is sacred and they go to drink or take a bath while the water source is not working. High level of environmental protection. Therefore, today we are discussing at the technical level to work together, because in this work, the Royal Academy of Cambodia also sent scientists to study the quality of Phnom Kulen waterfall, the results confirmed that: The quality of Phnom Kulen waterfall. Naturally good quality that can sustain all living things and good for irrigating agricultural crops. But not good enough for drinking water at all. The Kulen Waterfall, which claims to be Amret or a deity, is just an ancient religious belief that science and technology have not been able to confirm the best water quality because it is murky and has Contains high levels of biological nutrients that can adversely affect human health and skin if left untreated. However, His Excellency Kittisetha Bandith asked for more collaborative research between professional scientists to come up with a common result and set clear parameters. Turning to the electrolyte water purifier manufactured by Dr. Heng Bun E, HE Kittisetha, Senior Minister, praised and highly appreciated because it is the work of local Khmer children. Before us. In particular, Bei Ying knows how to create a unique and better quality, the Ministry will register the protection of intellectual property as the work of the owner.