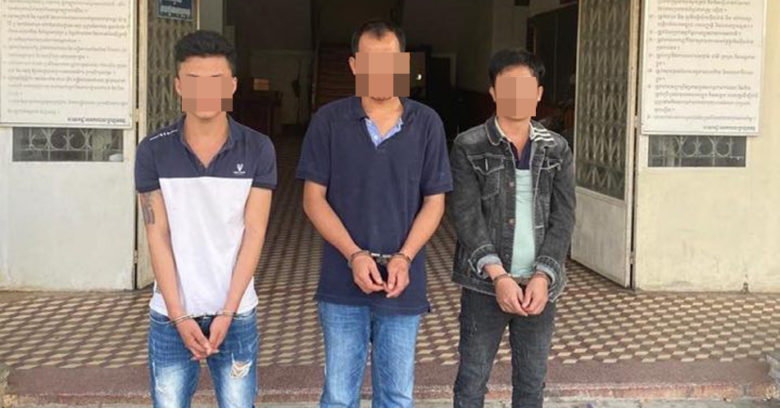 <! –
->
Phnom Penh: On the afternoon of January 25, 2020, the Ministry of Interior's Criminal Police Department dispatched three Vietnamese suspects. Phnom Penh Municipal Court Involves Illegal Vietnamese Torture for 300 Million Torture Dong after them Casino casino in Bavet, Svay Rieng.
The suspect was identified as Le Minh Luan, 39, and Nguyen Minh Thien, 39, and 3-year-old Trung Thenh Toan. Address in Vietnam. The victim, 57-year-old Phom Quang Dung, also lives in Vietnam.
On January 23, 2020, Lieutenant Colonel Chea Vibol, Deputy Director of the Ministry of Interior's Criminal Police Department, said that on January 23, 2020 Victim Families Appeal to Criminal Police Office Expert Weight Up Penalties of Criminal Division People are demanding money 300 million USD in return with the release of the victims.
After receiving the complaint, Lt. Gen. Nheang Ngorj, director of the Criminal Police Department, reported to his superiors. With the attention of General Nath Savoeun, Commander-in-Chief of the National Police and Lieutenant General In Bora Deputy Commissioner, Chief of Police Department of Justice, has ordered the Criminal Expert Force to cooperate with Phnom Penh Police To investigate the above case.
With the coordination of the prosecution body, the Phnom Penh Municipal Court and District 7 District Police arrived at noon on January 24th. The criminal department located the suspect who took the victim into custody for extortion until the crackdown. Arresting three criminals will free the prisoners One victim was in the Heng Long Guesthouse, Room 406, 4th Floor, Village 4, Street 111, Sangkat Boeung Prolit, Khan 7, Phnom Penh. According to the report, victim Phom Quang Dung said that on January 18, he came to gamble Bavet Casino When Losing Money Losed by the Three Suspicious Persons Garfield Phnom Penh, with a mortgage guarantee. Arriving in Phnom Penh, the suspect borrowed $ 10,000 to play a game together.
After losing $ 6,500, he stopped playing and he and the suspect went. Stay in an unknown guesthouse. When he arrived at the guesthouse, the suspect beat him, tortured and starved, and called his neighbors home. Vietnam demands $ 12,000 for release or they cut off their hand Amputation even killed him.
In the face of the crime, the three suspects admitted that they had initially come from Vietnam. Gambling at the NagaWorld Casino, some lost, others with little money. Play in Phnom Penh to recover some of the trees. Upon arrival, Phom Quang Dung (victim) had no money to play with them and borrowed the three of them. There were more than 10,000 US dollars in total. They then stayed at Heng Long's guesthouse and were forced to torture the victim and called. To threaten the family to claim 12,000 US dollars (300 million VND).
But the money has not yet come to hand, they have been arrested by the prosecution. In the case of the victim's affidavit and the suspect's confession, the justices concluded that this was an act of repression of persons by Illegal for the purpose of extortion, in fact, the prosecution has sent a case to the suspects in Phnom Penh Municipal Court. How to ៕