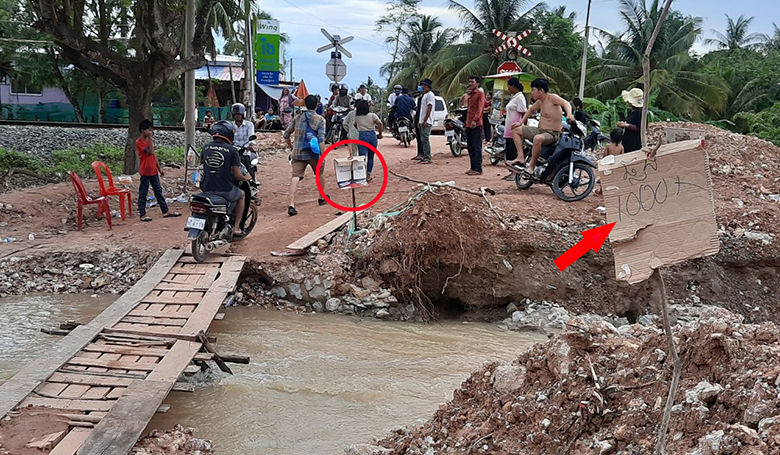 Kampot Province: 3 pictures from Facebook account name (Soso Sawat) posted at 2:26 pm On August 6, 2020, many people, especially those who like to play on social media, criticized each other like a dam breaking. Opportunity to take money from people who travel across a small wooden bridge is to pay 1,000 riel if crossing It costs 2,000 riels.
The location of this board bridge is in front of the commune hall, Trapeang Pring village, Trapeang Pring commune, Teuk Chhou district, Kampot province.
Public opinion raised the question, "Come and pay 2,000 riel! As they say, the bridge is broken, take the board? Ask a question? Like too much, you know? Does this road belong to the state? The bridge collapsed in front of the commune hall, but the commune did not have the money to buy 4 to 5 boards to build a temporary bridge for the people to cross? Why? "
In particular, according to a source from the police officer of the Teuk Chhou District Police Inspectorate, "From 5 pm on August 6, 2020 To the people who travel across the Teuk Chhou district hall road to Wat Kampoul Meas (Wat Pralay), the road is near the bridge. Trapeang Pring commune hall, Teuk Chhou district, Kampot province, no longer have to pay.
The same source confirmed that "now the bridge that people cross once costs R1,000 (one thousand riel) is the governor Teuk Chhou district bought it once and gave it to the people for free, and also connected to the electricity network to light the road in At the bridge crossing, it is easy to travel to avoid accidents. "