Banteay Meanchey Province: Customs and Excise Officers from the Office of Investigation and Suppression of Smuggling Area 5 on July 21, 2020 cracked down on a number of motorcycle stalls. 2 places in Palilei 1 village, Sangkat Poipet, Poipet city and confiscated 12 duty-free motorcycles Fake sales with the right motorcycle.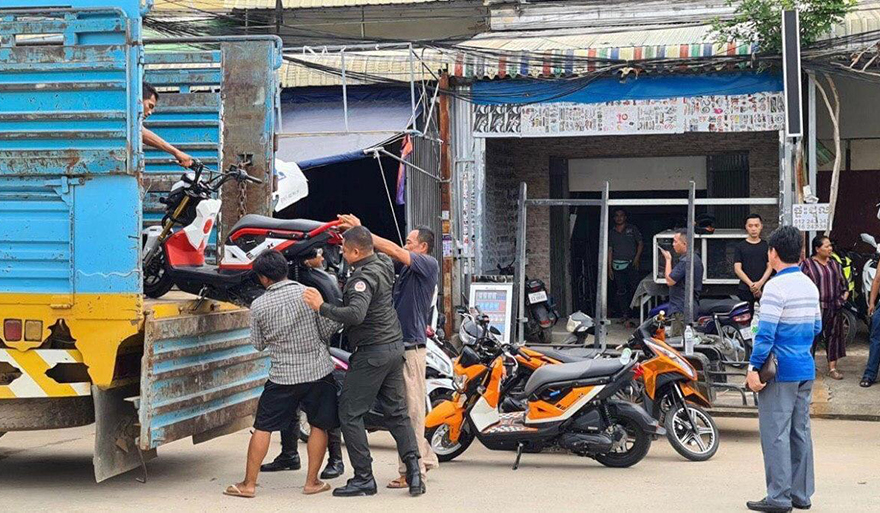 The crackdown on duty-free motorbikes was led by Mr. Chhuon Sophea, Director of the Bureau of Smuggling Research and Suppression, Area 5, Banteay Meanchey Province, with the participation of Police officers and the military police, and among the 12 motorcycles are Honda Click Zoomer
Exposure and PCX.
After the confiscation, the 12 motorcycles were transported by car to the Customs and Excise Office of Area 5 for the owners of the two booths. The place of entry pays taxes according to the law.
It should be reminded that in the past, customs and excise officials from the Office of Research and Suppression of Smuggling in Area 5, Banteay Meanchey, did not crack down on imported motorcycles? Frequent taxes at motorcycle stalls in Poipet that traders import from Thailand and require owners to pay taxes State.
It should be noted that in the past, tax evading motorbikes were brought from Thailand through Boeung Trakoun crossing មិន not long ago… Crack down once, take the work. (Edited by: Bopha)