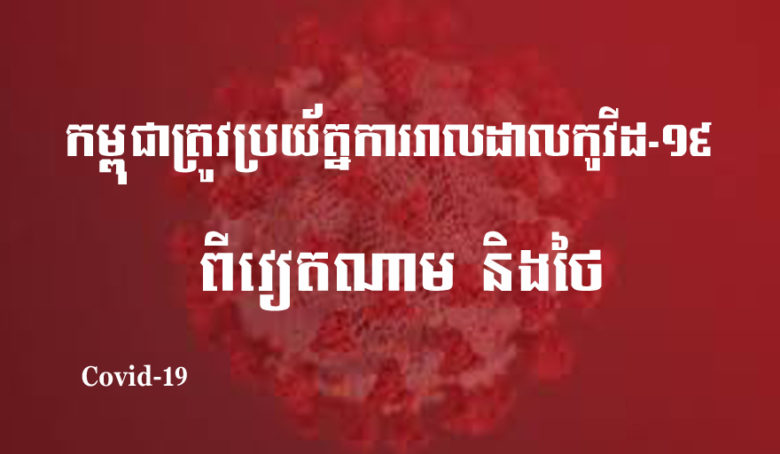 Kovid-19: Vietnam is terrified of the spread of the second wave of Kovid-19 across the country In Da Nang, Ho Chi Minh City and Hanoi, Thailand is still wary of Kovid-19 by continuing to deploy In a state of emergency until the end of August. So far, Cambodia has also increased the number of Kovid-19 to more than 230, which is a case of import. From the outside. But there do not seem to be cases of imports from Vietnam and Thailand.
While the two countries have a border with Cambodia, it is necessary to ensure that Cambodia does not neglect its borders with both countries. No, and take all possible measures to prevent imports through the two countries' borders by tightening controls. Boundaries. The situation of Kovid-19 in Vietnam has been declared as a high alert after finding a local infection Its two main cities are Hanoi and Ho Chi Minh City. Vietnamese Prime Minister Nguyen Xuan Phuc warns that all provinces and cities are at high risk of recurrence of Kovid-19 He called for stronger and more urgent measures to be taken to prevent this.
One or two new Kovid-19 cases found in Hanoi, Ho Chi Minh City and Dak Lak Da Nang province was closed when more than 40 cases of Kovid-19 were found. The discovery of new cases of Kovid-19 has damaged the reputation of Vietnam, which succeeded in preventing Kovid- 19 ago. So far, no one has been killed by Kovid-19 in Vietnam and 459 have been infected with Kovid-19. Case as of this Thursday.
Thailand, meanwhile, has placed a state of emergency until August 31 to continue blocking Kovid-19. Thailand has more than 3,300 Kovid-19 infected. What is important is that the two countries share a border with Cambodia, and in the past there have been large inflows and outflows. It is also illegal that this case must be careful to avoid the import of Kovid-19 along the border between the two countries, although Legal and illegal entry and exit. By: A, Hello