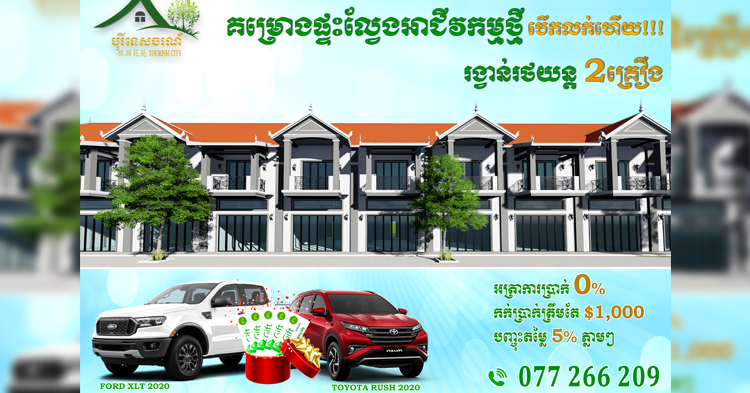 Phnom Penh: After receiving a lot of support to meet the demand for business apartments in the tourist city of Siem Reap. Borey Tours has announced the launch of a new business apartment project with a giant promotion to buy a house, win a car, get 5% discount immediately and depreciate with 0% interest rate for the first year and 0.66% interest rate. From the second year to 25 years provided by Canadia Bank Plc., No other collateral is required.
The Ford Ranger 2020 and Toyota Rush 2020 may be yours. Become a homeowner and luxury car owner right away, just book your favorite home from today and you will receive a raffle ticket to win a car and other prizes. Hurry up! Do not miss this special opportunity. Special offer for customers who make a deposit from August 6 to August 9, 2020, customers will immediately receive an additional 1% discount on existing promotions.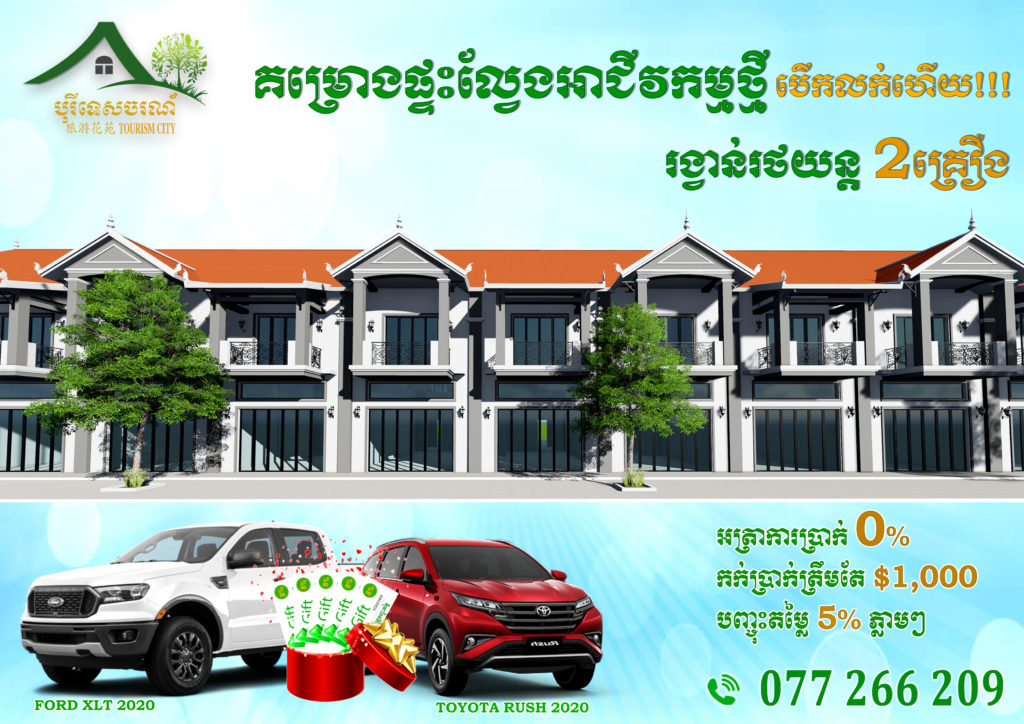 Borey Tours is located in Siem Reap, a land of wonders along National Road 6, next to MAKRO (Macro) Shopping Mall, just 3 minutes from Phsar Leu, which develops 66 hectares. Borey Tours is the first project in Siem Reap that focuses on living with a natural environment, accompanied by colorful gardens, playgrounds, gyms and a 1-hectare pond to reduce the daily stress of residents. Development as a new community with the development of housing, business, villa, market, school and near the hospital, shopping mall, which makes it convenient for residents and daily use.
Living more modern, civilized and doubly happy is only a tourist city.
https://www.facebook.com/152134032099277/posts/624448311534511/
Contact: 077 266 209 or 070 765 222
Sales Office :
Siem Reap Province: Kork Tnaot Village, Kandek Commune, Prasat Bakong District, along National Road 6, next to Macro Market, Siem Reap Province.https://goo.gl/maps/RB2gDNstKjGrheSL9)
Phnom Penh: Khan 7 Makara, in front of Sampov Meas roundabout (https://goo.gl/maps/M5nfdeGaaE1cRi9Y8). Collaborative Articles