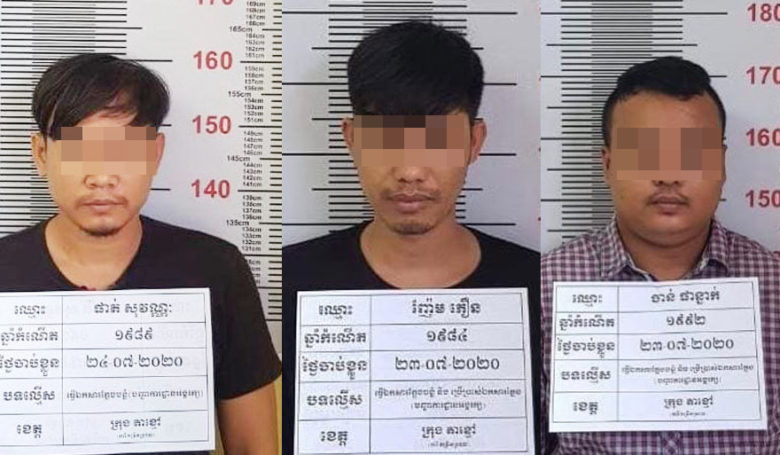 Kandal Province: Minor Criminal Force of Kandal Provincial Police led by Colonel Lak Meng Thi, Chief of Minor Criminal Bureau Search and arrest 3 suspects involved in the case of forging documents and using fake documents (Bodyguard Command).
The incident happened on February 27, 2020 and he was arrested on July 28, 2020 at the Ratana brand stall. Son of Prek Samrong village, Sangkat Takhmao, Takhmao city, Kandal province.
Three suspects: First, Nhem Phoeun, male, 36 years old, Khmer, address 20, Street 371, Sangkat Chbar Ampov, Khan Chbar Ampov Phnom Penh, Occupation: Bodyguard (246) Second: Name: Chan Phan, Male, 28 years old, Cambodian, Living in a rented house behind Modern 2, Sangkat Chak Angre Krom, Khan Meanchey, Phnom Penh, Occupation: Driver 3 – Name: Phat Sovann, Male, 31 years old, Residence: Prek Samrong Village, Sangkat Takhmao, Takhmao City. Kandal Province Occupation: Photocopying.
For the seized items, Phay Vutha (fake) ID card, collective firearms (fake), Phay Vutha mission order (fake) 3 mobile phones, white iPhone 5, white OPPO, black SAMSONG A20s, black.
Colonel Lak Meng Thi, director of the Bureau of Minor Offenses, said that in 2014, Chan Phan took office. At the Bodyguard Command (Intervention 210) and in the middle of 2015, Chan Phan stopped working while on the job named Chan Pha One knew Nhem Phoeun, a 36-year-old man who worked at the same fort and had been in a relationship ever since.
In 2018, Chan Phann wanted to work for a Chinese man in Sihanoukville (driving a car), but the Chinese required Chan Phan, who had just been hired by the armed forces, asked Nhem Phoeun to help him get his ID card. Collective firearms, mission orders and ID cards of Nhem Phoeun's bodyguard command returned to rename Chan Phan Recently, they went to a photocopy site with the trademark name Ratanaboth.
Later, Chan Phannak arranged for them to make fake documents (bodyguard command) for others, such as 1. Name: Duke Mab, male (imprisoned in Preah Sihanouk province) 2. Name Hem Sambath, male 3. Name Prum Sophat, male 4. Phay Vutha's name and some others do not remember the name when filing is paid from $ 160 to $ 220. As for Phat Sovann, the scanner, he received documents ranging from R30,000 to R70,000.
According to the results of the investigation, according to the confession of Chan Phan, Nhem Phoeun, Phat Sovanna, that he had actually arranged for the forgery ( Bodyguard Command) to others to actually use to get some money. This case has built a case to continue the proceedings.