<! –
->
Kandal Provinces – Two men were killed suddenly on the spot in a car collision with a motorcycle Reverse intersection at 2:30 pm, February 16, 2020, on National Road 1 at the km No. 39-40 located in Chroy Chang village, Samrong Thom commune, Auk district Purple Province.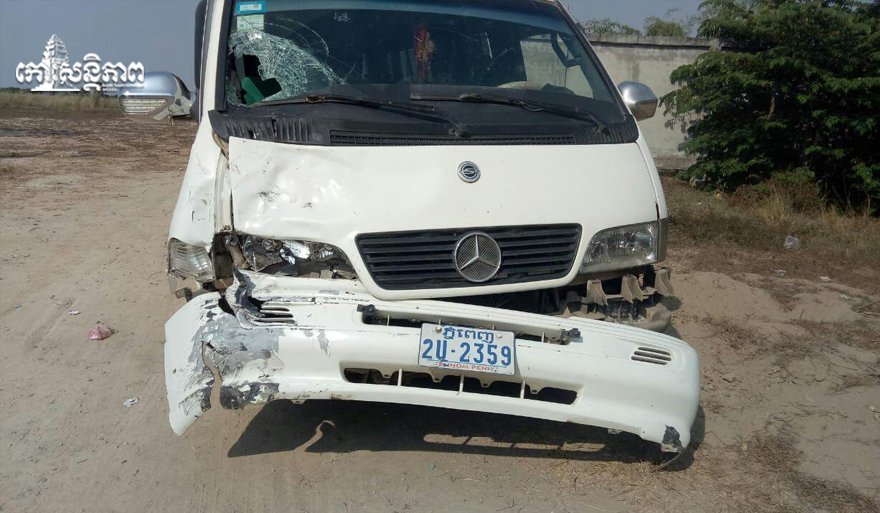 The two victims, one of whom was Khemara, a 24-year-old male, were not in the business. The driver and another person, Phum Dara, a 23-year-old farmer, were working as a passenger. Both victims were located in Prek Takeo village 2, Samrong Thom commune, Kien Svay district. Both victims were riding a motorbike on a black Honda Dream T55, wearing the license plate number 1BL-4963. On the side of a car is a passenger type of Mark Young White wearing a Phnom Penh 2U-2359 unknown driver. Identities escaped before authorities arrived.
According to sources, before the crash, the victims of the motorbike were driving at high speed. Directions from Phnom Penh to Leung without a helmet. When it came to the top, the steering wheel overturned and crashed into the side of the truck that was driving Samson. The intersection was full of lightning, causing the driver and passenger to lose both lives. The driver of the car escaped.
After the incident, the police force teamed up with the police, the administrative police, to intervene to facilitate traffic and to measure motorbikes and cars. Go to the District Police Inspectorate to make a legal case. The two victims were recorded by authorities and handed over to families for traditional ceremonies .
In the case of traffic accident, the conclusion of the authorities is caused by negligent motorists Be careful and drive at high speeds, and drive in and out of the road, while the vehicle is coming from the opposite direction The obstacle ahead. (Editing by: Thida)