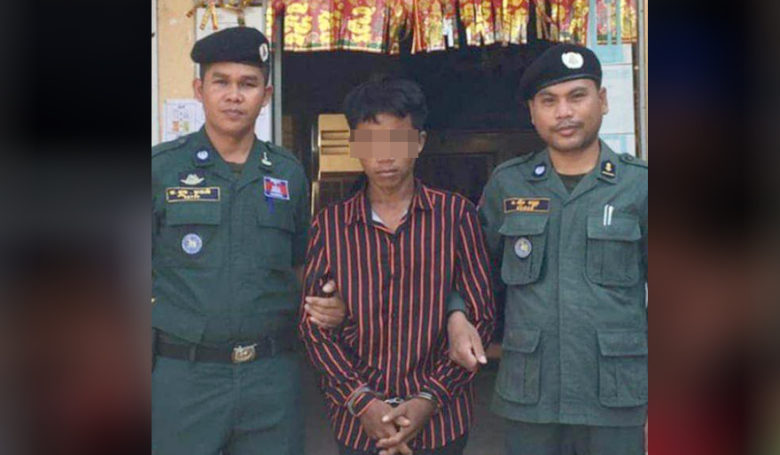 Siem Reap Province: Siem Reap City Police Inspectorate, under the direction of the Deputy Commissioner for Criminal Planning, led by Lt. Col. Nou Sarak, Inspector of Siem Reap City Police Inspectorate, cooperates with Snuol District Inspectorate of Provincial Police Kratie hunts down a suspect who was active in stealing a motorcycle in Siem Reap City and decided to go into hiding in his hometown In Kratie province, the suspect was handed over to the Siem Reap provincial police for further proceedings.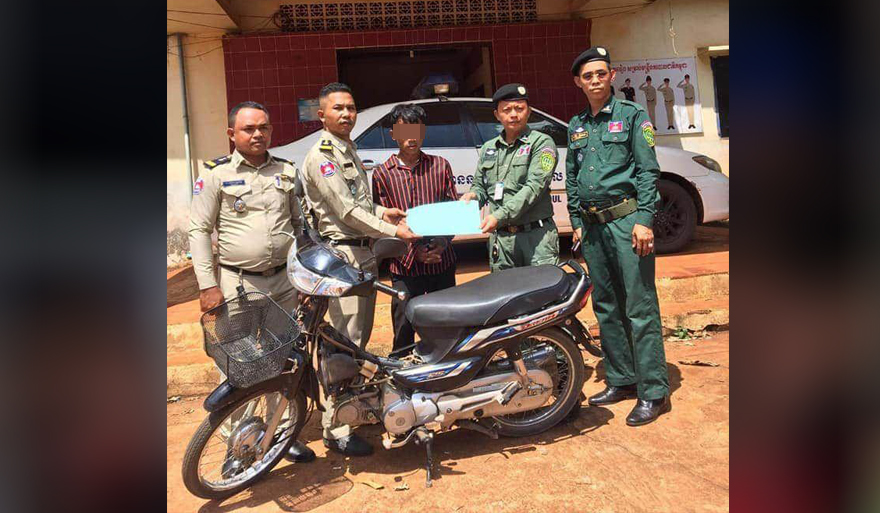 According to Colonel Nop Sarak, Inspector of the Siem Reap City Police Inspectorate, the suspect was named Doeur. Mab, alias Sopheak, male, 23 years old, unspecified occupation, living in Anchanh village, Sangkat Nokor Thom, Siem Reap city, Siem Reap province, hometown: Dar, Dar commune, Chit Borei district, Kratie province, was involved in a case of motorcycle theft from Siem Reap province and drug use. The victim, Keo Chetra, a 17-year-old male student living in Trapeang Treng Village, Sangkat Sala Kamroeuk, Siem Reap City, Siem Reap Province. The owner of a black 2016 Honda Dream motorcycle with license plate number 1S-7770.
He confirmed that before the incident at 8 am on July 15, 2020 in front of the party headquarters. Residents of Mondul 2 village, Svay Dangkum commune, Siem Reap city, Siem Reap province, the victim rode a motorbike to wait for a friend. Leave the motorcycle behind, with the keys attached to the motorcycle, only when the victim turns around to look. The parked motorcycle suddenly disappeared and came to the local police to intervene.
He added that until July 17, 2020, the Snuol District Police Inspectorate of Kratie Provincial Police informed the Nokor Inspector. Municipal police said that the specialized force of Snuol District Police Inspectorate has arrested a suspect on a motorcycle Sold to them at a suspicious price, the authorities there detained the suspect. Snuol District Police Inspectorate to interrogate until they find out that the motorcycle was stolen from Siem Reap, then the Snuol District Police Force called Called the Siem Reap Provincial Police to pick up both the suspect and the motorcycle on July 18, 2020.
After being questioned, the suspect confessed to the authorities that he had stolen a motorcycle like the one on the other side. On the riverside park in Siem Reap city, Siem Reap province on July 15, 2020 at around 7:30 in the morning. Yes, the suspect also admitted that he also used drugs.
The suspect is currently being investigated by the criminal police and sent to the provincial court for legal action. A motorcycle confiscated from the suspect was handed over to the victim by professional forces to take care of and Used again. (Edited by: Thida)